Become a foster. Save a sweet dog's life.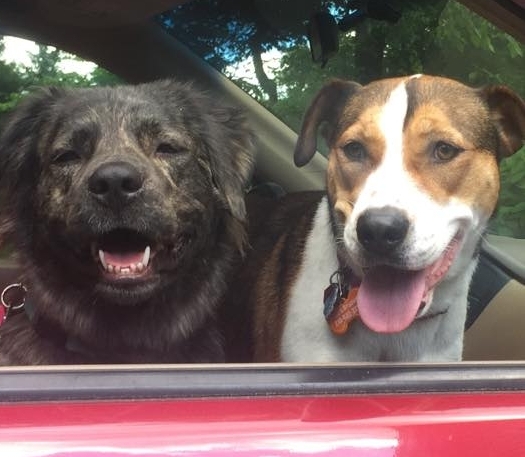 We adopted Chance (left) and now we're fostering Bea (right). She's a real catch for anyone looking for their own Lulu's rescue dog!
~ Leidy
Fostering is the most direct way you can save a dog's life.
Ask anyone who has fostered. There is nothing so rewarding as taking a throw-away dog into your home and being the bridge to his second chance and a forever home. Fostering means bringing a dog into your home and treating him as your own beloved companion.
How long will I foster?
Fosters are needed for varying lengths of time ranging from a weekend to an average of three weeks. A commitment to foster is on a per-dog basis, and we welcome occasional as well as ongoing foster families.
How you can help us find his family.
As a foster, your experience with the dog will help Lulu's identify the family in which he will flourish and bring tremendous joy. You will learn his personality, his level of training, perhaps training still needed, and relay sweet stories regarding your pooch to Lulu's Rescue so we can create an awesome bio for him on our website, Petfinder, Adoptapet and more sites.
It's all in the family...yours.
Everyone in your home should be committed to and excited about fostering a dog. If you already have a dog or cat, all the better! This is key socialization for our rescue dogs because many perspective adopters already have one or more pets.
Limit space but give time.
You should be willing to crate or otherwise limit (like with the use of baby gates) access that your foster pooch will have to your home when you are not there. Foster dogs do not need an abundance of time and most of our fosters work full-time jobs. But you should be able to spend time with your foster dog including helping him with leash manners and simple obedience training. When choosing the dog you wish to foster remember that young puppies require more attention (more frequent meals and bathroom breaks) than older dogs.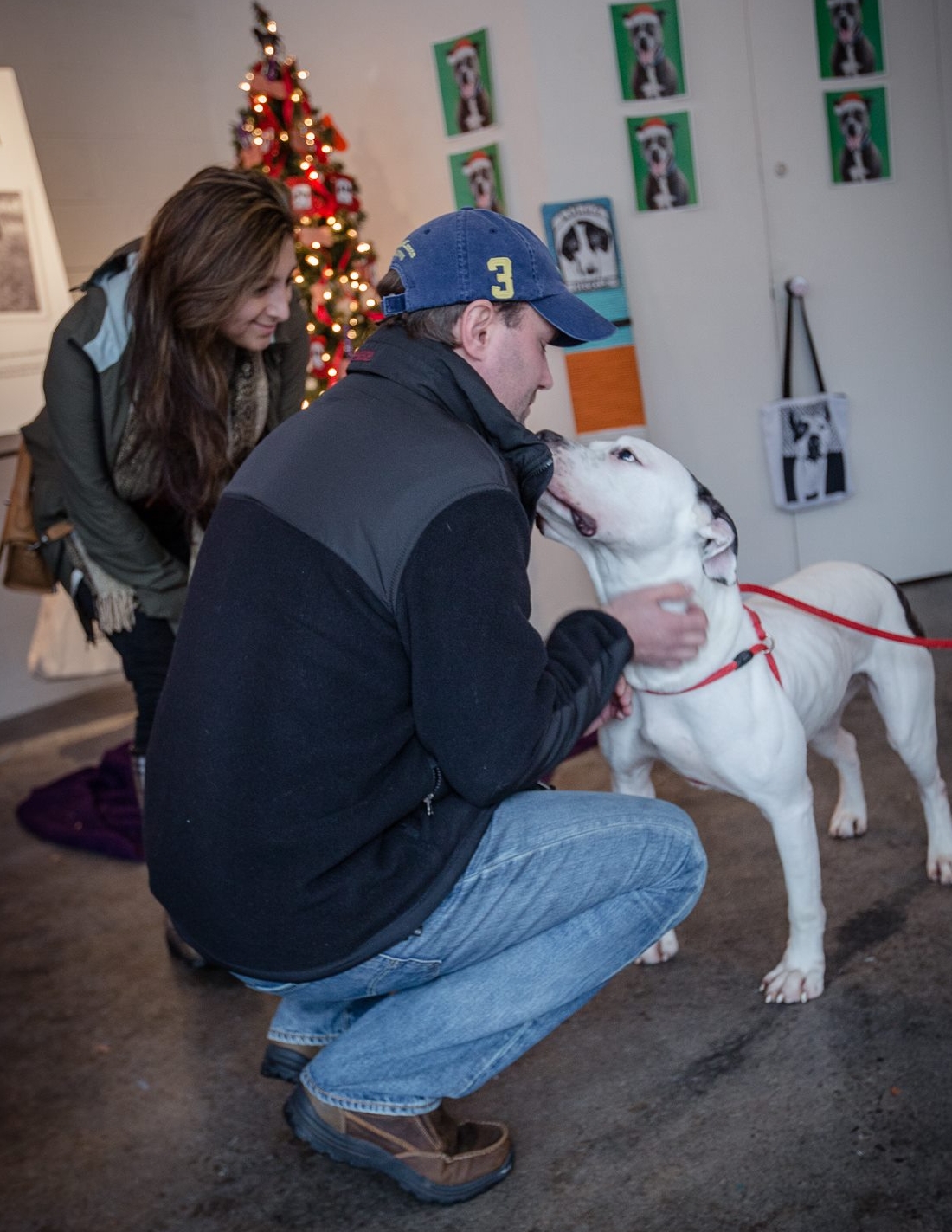 When you foster, you give a dog a safe place to land while she waits for her forever home. It's the greatest gift you can give.
We've got the expenses covered.
All expenses are taken care of by Lulu's Rescue including food and veterinary care. (However, you may be asked to take the dog to the vet and follow through on any care required such as giving medication.)
Limitations may not be limiting.
Remember that all kinds of dogs need our help, so don't rule out fostering because you feel you have some limitations. Talk to us about them. These wonderful dogs would rather be enjoying the comforts of your home and the love of your family than sitting in a frightening, cold animal control facility as their time runs out. Overall, your most important responsibility is to prepare your foster for his new life in his forever home.
Go for it!
If this experience sounds fun and rewarding to you, the next step is to complete a foster application form. We will review your application and set up a home visit to meet you and your family.
Finally, if you know others who would be interested in fostering please share this webpage with them. The number of dogs we can rescue is directly proportionate to the number of foster homes we have. We are always looking to grow our foster network and save more dogs as we work on educating the public on the importance of spay/neuter and helping to bring about the day when there will be no more homeless pets.
Myth 1: I'll get too attached to my foster dog.
Getting attached to a dog in your care is a normal part of fostering and giving up a foster dog can sometimes be hard. The best way to handle this is to remind yourself that you are doing an important job by providing an incredible life-saving bridge between death row and their fur-ever home. It helps to remember that you can save so many more dogs by fostering than you ever could by adopting!
Myth 2: I can't foster because I work full-time outside the home.
Like most folks, many of our foster parents work full-time outside their home. We recommend that you keep your new foster dog in a large crate (we can supply, if needed) or confined to a small room when you leave the house for an extended period of time.
Myth 3: I'll have to cancel the vacation I scheduled next month.
Of course we expect foster parents to go on vacation! If your foster dog is not adopted by the time that you are scheduled to go on vacation, we will place your foster with a temporary foster family or board them at no cost to you.
Myth 4: I'm on a tight budget and can't afford dog food, supplies or medical treatment.
As a foster, you are not expected to pay for any of the associated costs. Lulu's pay for each dog's medical care and can supply you with a crate, harness, collar, leash, toys, etc. Many fosters choose to buy their own dog food, but if you like, we can supply you with dog food as well!
Myth 5: I can't foster because I have a dog (or dogs).
Resident dogs make great foster siblings! Your dog(s) will teach a new puppy or foster dog good manners and about your family's schedule. Your dog(s) can also help a foster dog feel more comfortable in their new environment. The majority of our foster families have their own dogs already. One of our foster families has 4 of their own resident dogs!
Myth 6: I can't foster because I have a cat (or cats).
Many of our dogs are cat-tested and some have already been living in foster homes down south with cats! If you have a cat (or cats), you will only be placed with a cat-friendly dog. One of our regular fosters has 5 senior cats!
Myth 7: I am concerned that my kids would be heartbroken when our foster dog gets adopted.
Many of our foster families have children! Fostering a dog can be a wonderful way to teach children about responsibility and empathy. Knowing that they have helped save a dog's life and helped them find their fur-ever home can give your children a real sense of pride and accomplishment. One of our foster young daughters recently told her classmates how happy she was to be was to be saving a dog!
Myth 8: I'm unsure about bringing a "strange" dog into my home.
All of Lulu's Rescue foster dogs are current on vaccines -- and are already spayed/neutered (very young puppies excluded). Plus the majority of Lulu's dogs have already been fostered by another family in the south prior to arriving in PA/NJ. In many cases, the southern foster families have already house-trained and crate-trained your foster dog! J
Myth 9: I have never had a dog of my own and I don't know anything about raising a dog.
You don't need to have grown up with dogs to be a great foster. If you're new to living with dogs, we would try to match you with a foster dog who matches your level of experience. We could also partner you with a "Foster Buddy" who can help educate and support you. We also have a Facebook Dog Fosters Support group where fosters support each other and learn from one another.
Myth 10: Now is just not a good time.
Let's be honest – there's never a perfect time! And there's no better time than the present! We ask that you try fostering once and see how you like it. We promise that fostering will be one of the most rewarding things you will ever do!
Fostering Benefits
Feel like you may need some exercise? Leash up your foster dog and head out for a walk!
Does life have you stressed out? Studies show that caring for a dog reduces stress and may even help you live longer!
Looking to meet new people? People are bound to stop to chat when your cute foster dog is wearing their "Adopt Me" vest!
Tired of coming home to an empty house? Your foster dog will be thrilled to see you!
Looking to do something meaningful and rewarding? Save a sweet, healthy dog's life by becoming their foster mom or dad!